A WORLD ENLIGHTENED – A HIGHER DIMENSION
O.N.E. GLOBAL TV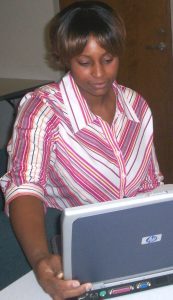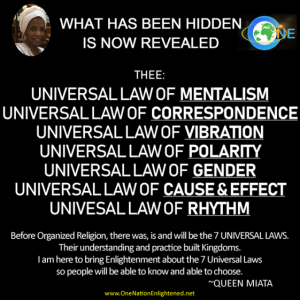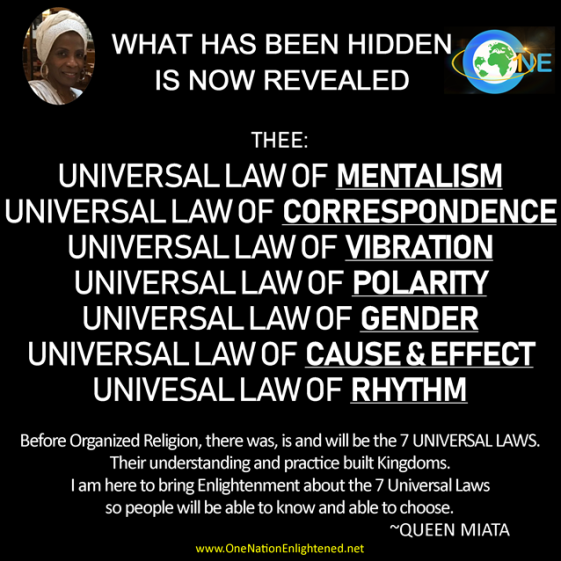 THE 7 universal laws
WHAT HAS BEEN HIDDEN IS NOW REVEALED

The Teachings of the 7 Universal Laws
Spirit has directed me to go into the Kingdom and teach, not about religion but about Spiritual Power. As directed, I will teach the 7 Universal Laws, what has been hidden.
Before any organized religion and before Ma'at there was, has been, is and will always be the Universal Laws. What makes them Universal is that they stand on their own. The Universal Laws are scientific and follow the principles of Physics, a natural science dealing with the structure of matter and how the fundamental constituents of the universe interact and the related entities of motion, energy and forces.
This is a recruitment from the Ancestors to teach you what has been hidden, to teach you how to be Light to your family, how to elevate and stay in Divine Consciousness, to teach you what the Ancestors want us to know. Our Ancestors are our guides. As I listen and teach, I hope you will listen and learn. Thus, you will have a choice. Then, you will be able to choose.
Purchase the book 'Permission To Be Great', my book about the Universal Laws and Living in Divine Consciousness.
___________________________________________________________________________________________________________
SPECIFICS: Online Webinar…
This is a 2 step process for Donation
1. Make Donation (Optional)
2. After donation forwarded to register for your webinar.
Click Registration Link 'a' or 'b'
a. Make a donation click here to register
b. No Donation at this time click here to register
TIME:
First 5 dates:
Daily: Jan 1, 5, 12, 19, 26 2020 12 pm to 12:30 pm EST
REFUND POLICY: There are no refunds. However, you may transfer / gift the registration. The two-step process makes it easier to gift the webinar. Please contact us via email if you need to transfer registration after you register.
OTHER:
iPhone one-tap
US: +19294362866,,669174866# or +16699006833,,669174866#
Telephone:
Dial(for higher quality, dial a number based on your current location):
US: +1 929 436 2866 or +1 669 900 6833
Meeting ID: 669 174 866
International numbers available: https://zoom.us/u/ad2XXix4Uw