Grand Rising ALKEBULAN! (PT. 2: GLOBAL ENLIGHTENMENT – Original Men, it is time to choose)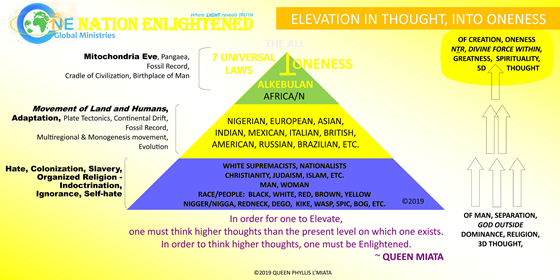 Please remember, as you study the Universal Laws (https://onenationenlightened.net/global/UNIVERSAL-LAWS) there is no one above you…no Jesus, No Muhammad, no Moses, no Buddha, etc.   Organized Man-made religions inherently are forms of indoctrination.
When the Sun rises, it represents the Divine Father, the Creator of the Universe.  When we rise, get up, we must rise in the Knowing of who we are. We must operate from this Knowing of our vibration, our rhythm is one that cannot be stolen, sold or given away.  We are the Rising, we are the vibration of the Creator, we are the suns/sons (Gods/Goddesses in the 'of GOD' sense) of the Creator, and we exist in the living of and the bringing of the light.  We are Original Man and Our Land is ALKEBULAN.  Wherever we are, we are ALKEBULAN!
Our Story
Spirit has told me that we were taken out of our land by self-inflicted wounds.  When Mankind was Created in ALKEBULAN, there were those who did not want to exist under the influence of the Creator, so they left on their own willingness (evolution took place and they adapted to their environments..they no longer looked like us, they were and are our white brothers and sisters).
Over time, thousands and thousands of years later, our white brothers and sisters understood the value and resources of the land they left and wanted to return, but they did not know they were once us and we did not know them.  However, those who stayed in ALKEBULAN were told by the Creator, never to trade with them or invite them in for they have disconnected and lost the consciousness of the Creator, they have long been disconnected from operating and living in the Spirit of the Creator.
We traded seeing shining objects and invited them in.  When we realized the error of our ways, we understood the plague in which we allowed in our home ALKEBULAN.  We fought, but we were not united on this vast land ALKEBULAN.  Remember we are of many tribes.
If a wall is built around ALKEBULAN, ALKEBULAN will live.  If a wall is built around France, USA, and any other country, their inhabitants will die.  Their  survival will be to trade with others like them.
ALKEBULAN (not AFRICA) is the promised land.  It is our land. 
Read more
You must log in to read the rest of this article. Log in below using Social Media account in 'Leave a reply' section or register as a new user.